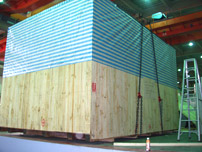 Chang Hong Wood (Co. Ltd.)

was established in 1976. According to client's requirements

in the beginning,
our wooden boxes and crates designed and made to order include wood work model, medium-small boxes,
machine

packaging and pallets…etc.

After a long period of experience accumulation,

we further provided
professional design for mechanical companies and developed packaging boxes that comply with enterprise
demand of export application.

In recent years, Chang Hong Wood (Co. Ltd.)

has continuously expanded factories and

equipment; to give
technical personnel on site a pleasant working environment so they can operate the tools more conveniently
and achieve the purpose of stabilizing quality of wooden boxes. As for the company personnel, the company
recruited more design engineers that are familiar

with various mechanical characteristics. In addition, there
are also purchase consultants with abundant experience specially hired to strictly control material quality and
safety stock of wood material; this achieves

capability of closely cooperating with client's urgent shipment in
large quantity at any time and takes care of many other clients' order at the same time. Therefore, Chang Hong
Wood always maintain tens of technical personnel with abundant experience in box sealing. We wish to help
enterprises in

consolidation of

product quality and corporate image with safer and stronger wooden boxes,
as well

as

achieving the goals of rapid export procedure

and safe

machine packaging from professional
service at most reasonable cost. This enhances service quality to original customers, as well as development
and expansion of new customers.